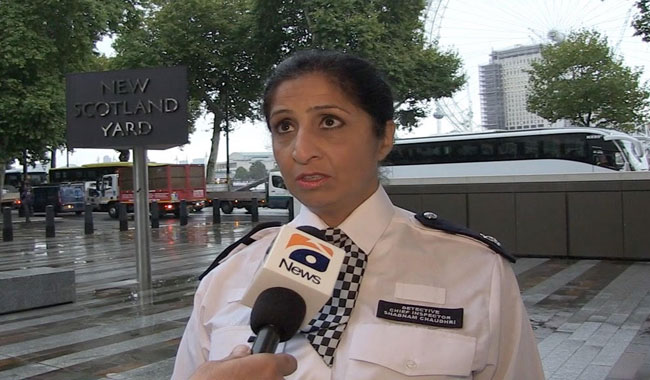 LONDON: A British-Pakistan woman has become the first ever Muslim and Asian woman to be appointed as detective superintendent of the Scotland Yard.
Shabnam Chaudhri, who moved to Britain with her parents from Karachi at the age of two, has been appointed detective superintendent of the Metropolitan Police Service for her 'outstanding contribution' to the fight against hate crime and criminal gangs. She joined police in 1989 in London against the wishes of her parents who wanted her to get married and have children.
She told this scribe: "My parents wanted me to get married early and settle down. I opposed and joined the police to make a difference. When my parents saw that I was fighting crimes and helping people in need, they became happy and proud of me. Those were times when there were not many Asian and Muslim women in the police. Women from our background are still reluctant to come to the police but I think they should apply for the police jobs."
Shabnam is the only Muslim female detective within the Met police, and nationally, at this rank. She has won dozens of awards for serving across London in her career that spans 28 years of police service. Shabnam works with women to raise awareness around issues such as hate crime and domestic abuse, and delivers empowerment presentations to women from hard to reach groups and communities who would not otherwise engage with police.
"Becoming detective superintendent is a big achievement for me because I worked for six years for this position. I have fought crime gangs, I have been kicked, attacked, punched, assaulted, chased and gangs have targeted me. I worked at the London Olympics and at many other high profile events. I was supported by my bosses for this position when I applied for it. I would like more Muslim and Asian women to be in the police," she said.
Shabnam said the police job in Britain has changed and nature of threats has changed completely as more sophistication and planning is involved. "I have dealt with every kind of job. We have vests to protect ourselves against attacks. We have every kind of equipment to keep ourselves safe. I have managed teams and I have been on the frontline duty. I am not scared of anything and that's what I have learnt while being in the police. Every day brings a new challenge in this job."
The Met police detective superintendent said that working Pakistani women made her proud as they work hard for recognition and rights. She mentioned the name of Benazir Bhutto who inspired her.
She shared that her parents were not very supportive of her getting education but all those years priorities of parents were different. "We were four sisters and their biggest wish was that we all get married but we had careers in our mind growing up and that's how it all happened. My mother is my role model."