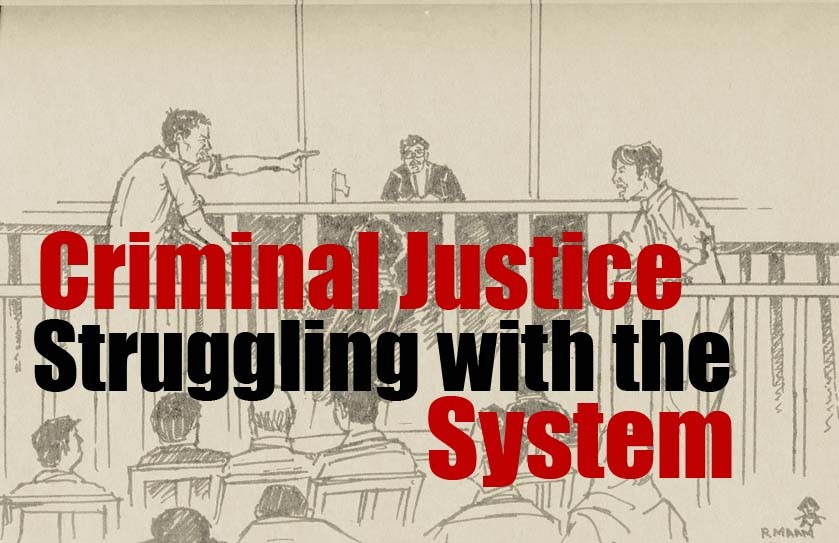 There are problems with the criminal justice system in this country. Unfortunately, we keep hearing about them more as a heated exchange between different institutions of the state and not as a serious issue that needs to be fixed and reformed.
Even when there is an attempt to engage with it more seriously, the discourse stays more on the surface and does not deal with the details. For instance, everyone keeps hearing about the huge backlog of cases -- the recent figure puts them at 1.857 million -- as one issue that plagues our justice system. It appears this is something the chief justices of high courts and the Supreme Court can solve with a magic wand. At other times, jails populated with a majority of under-trial prisoners are brought into the news to bring shock to a system that refuses to budge.
This begins at the level of investigation of crimes which is believed to be faulty because of the capacity of the investigating officers, lack of training and inability to use forensics and technology. The prosecution, which is supposed to facilitate the system, fares no better.
Actually, the criminal justice system in Pakistan needs a thorough study. There has to be connectivity and ongoing conversation between police, prosecution and judiciary. The anti-terrorism laws and courts are another important part of this system and need to be revisited. Experts think that while the Police, Prosecution and Home are trying to bring a change in their functions, it is the judiciary that largely stays insular.
Our Special Report has not dealt with prisons in detail but that is very much a part of the criminal justice system and merits a detailed review.
Read also: Criminal justice Struggling with the system
Of course, the situation is not static and a reform of some sort is already in progress. We have only tried to pinpoint some gaps and the prescriptions and way forward for a better criminal justice system.