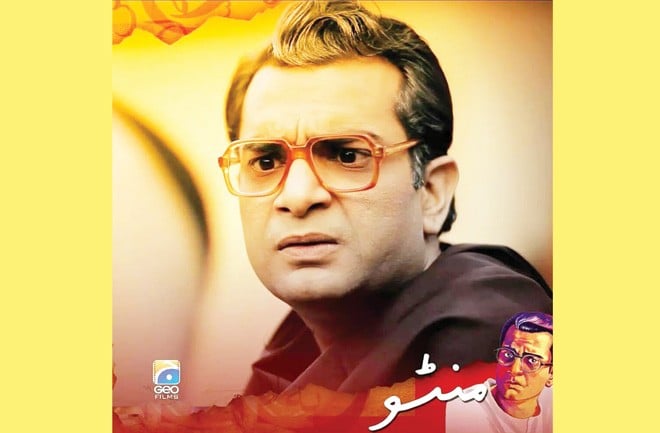 Sarmad Sultan Khoosat's cinematic debut in and as Manto is quite possibly the performance of a lifetime. In a year packed with several knockout performances - be it Adnan Sarwar in Shah or Shaz Khan and Hameed Sheikh in Moor – Manto manages to stand out because of Sarmad's extraordinary vision as actor and director and his unwavering faith in the subject manner.
Drenched in a pale fire, Sarmad's performance captured the desolation within Saadat Hasan Manto. The actor-director can be credited for re-introducing the genius of the late Saadat Hasan Manto to a generation that may or may not be familiar with his work. With Manto, Sarmad not only revisits the life of the Urdu literature giant, but also accords him the respect he deserves while holding a mirror to society, seen through Manto's eyes. In doing so, Sarmad forces us to reflect on the late man's work and confront uncomfortable truths.
Manto the Film features several notable performances from an eclectic, all-star cast. Sarmad's choices for the roles, originally the subject of controversy, eventually glisten, leaving you wondering why you questioned his choices in the first film.
From the film's intensely disturbing music to its gorgeous nod to Manto's inner and external universe, it's a film that almost always forces its audience to choose sides and leaves you with a different impression every time.
It is hardly surprising that Manto is winning applause every where it goes. At the recently concluded eight edition of Jaipur International Film Festival, Sarmad Khoosat picked up the Best Actor award in the feature film category for his titular performance. The film also picked up a technical nod and was awarded Best Sound and Editing Award.
And Sarmad, in characteristic humility, is full of gratitude. "It's uncanny, to be honest," he told Instep after winning in Jaipur. "The film opened the festival alongside Piku and winning the Best Actor Award when there was Amitabh Bachchan in the list…"