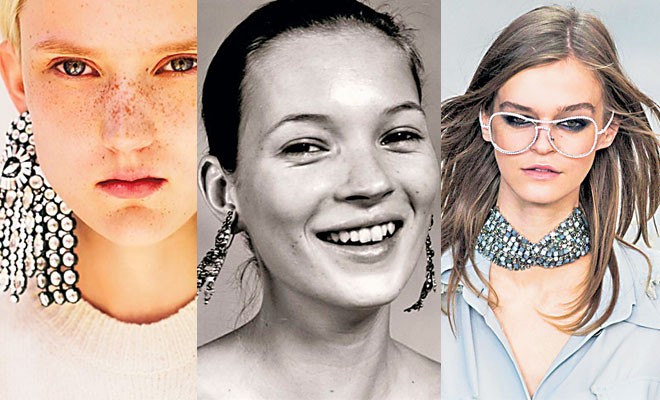 Gone are the days when you'd only break out the big jewels during cocktail hour - at least that's what A/W '15 in the fashion capitals seemed to suggest. It's perfectly alright to sneak in some serious glamour quotient in your out-and-about daily wear with diamonds, crystals or your very best costume jewellery. The trick just is to not look like you forgot to take off last night's jewellery.
Bling up the basics
Give your straightforward, casual outfits an instant update by pairing it with some gaze-arresting bling. Even if your look is strictly utilitarian with jeans or khakis, throw on some ornate, heirloom pieces for easy, effortless chic. Denim no longer has to mean dressed down.
Return of the choker
Stow away your scarves and replace them with chokers, now that spring is coming. Givenchy, Chanel, — all gave a thumbs-up to the return of the choker necklace styles on the runway, which means we can rescue from the recesses of our jewellery drawers to add a glamorously punk edge to our standard blouse and trousers. Choker necklaces are a fierce way to dazzle.
Beauty in the background
If you want your jewels to do the talking, consider an understated approach to hair and makeup. Kate Moss in Craig McDean's 1997Vogue shoot demonstrates this with her clean but strictly un-styled hair and barely there foundation. Our eyes are instantly drawn to her sparkling earrings swaying.
Suit up, but don't forget to shine
The usually bold Rihanna offered a lesson in simplicity when she at the Grammys afterparty. Wearing an all-black gentlemanly Maison Margiela couture suit with a strand of Chopard diamonds, she showed how elegance can be brought back into the androgynous trend.