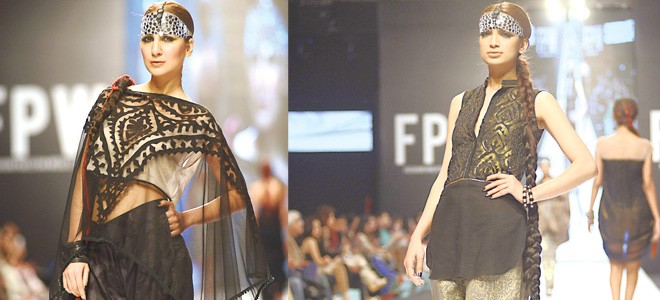 Best Debut: Inaaya
Inaaya by Naushaba Brohi had impact, incorporating a rural craft and through the craft, projecting socially responsible fashion. Did it have the oomph essential to a fashion label: it did. And will it have retail presence: maybe not as widely as one can hope for, but it will.
PS: High street labels Sheep and Daaman also showed for the first time, both being welcome additions to the mushrooming ready to wear space in Pakistan.
Most Unforgettable: Ali Xeeshan
Ali Xeeshan is one designer who knows how to catch the eye, whether it's with crazy, zany costumery or orchestrated rural theatrics…this one's got what it takes to draw attention and survive in fashion. This particular show was unforgettable for its use of bright colour and Bollywood music. After all, it isn't everyday that you hear the words 'spiritual' and 'Jumma Chumma' in the same sentence.
Most Beautiful Face: Sabeeka Imam
Best Styling: Nabila and her creative team
Most Inspiring: The Rising Graduate Show
While student shows and collections are usually reminiscent of graduate thesis work, the Bank Alfalah Rising Graduate Show was truly impressive. Featuring four young designers – Sakina Lotia, Raabiya Iftikhar, Faiz Rohani and Abel Emmanuel – it showed the potential that fashion students have and should be encouraged for. Still awaiting results on the winning designer, one hopes to see more from these four in the future!
Most Welcome Comeback: Fayeza Ansari
Photography by Tapu Javeri except
HSY for Tapulicious by Kashif Rashid and backstage images by Nadir Toosy.